September 4, 2020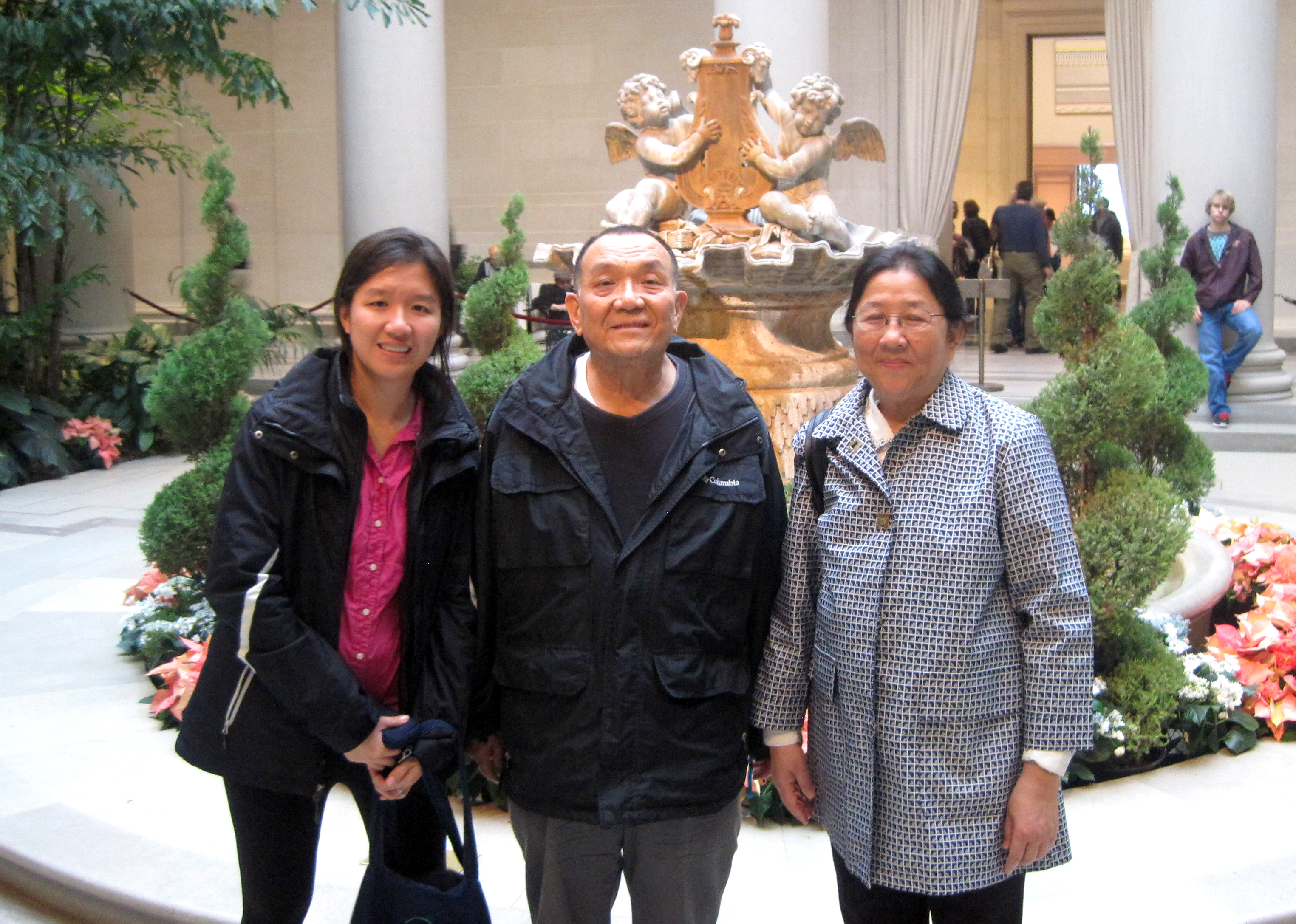 During the height of the COVD-19 pandemic, Dr. Louise Wong, a Weill Cornell Medical College graduate of 2010, regularly drove from her home in Washington, D.C. to New York City to visit her mother, Xiao Wong, and be close to her ailing father, Kin Wong, who had been diagnosed with COVID-19 and hospitalized. Dr. Wong, a pediatrician with two toddler sons, felt confident that the institution where she received her medical education would take the best care of her father. Here, Dr. Wong tells the story of her father's battle against COVID-19, and the role that Weill Cornell Medicine played in caring for her father, and in turn, her family.

In late March, my father became sick with COVID-19. My mother was taking care of him at their home in Brooklyn, where he was experiencing chest pains, difficulty breathing and complete exhaustion, and his symptoms only got worse. On April 1, when it was clear he needed to be hospitalized, I knew that I could only bring him to an institution that would deliver the best care for his situation: NewYork-Presbyterian/Weill Cornell Medical Center.
My father had been a patient there before with much success. Those experiences, combined with my respect for the professors at Weill Cornell Medicine and their clinical expertise, gave me great confidence in the care and treatment that would be provided during this critical time. I had a fantastic education at Weill Cornell Medical College and when my dad started getting sick, that training kicked in, and I saw his case from a physician's point of view. It was nerve-wracking to admit him to the hospital, but I knew the decision was in my father's best interest.
My father ended up spending five weeks on a ventilator, which was an emotional journey for my entire family. Through the ups and downs of his stay, my mother and I received updates on my dad's status by phone and video call, directly from the doctors and nurses who were treating him. Despite the chaos and urgency of care needed to treat so many New Yorkers who were suffering, their humanity and compassion showed in every update they gave us.
A doctor in the ICU was able to progressively wean my father down to low ventilator settings, and eventually they were able to wean him down to a CPAP machine, then a tracheostomy collar and finally off oxygen altogether. He had been sedated, in a medically-induced coma, up until this point, and even after being taken off sedation, my father didn't show signs of awareness or communicate for more than a week. Despite this, one of the nurses spoke to him constantly. She would put HGTV on the television, talk about the show to him, and then ask him to tell her all about it later. It was hard to know if he was responsive to anything but she never stopped talking to him. I affectionately nicknamed her "Chatty Cathy" in my head, and when no one else did, she believed he showed signs of awareness and was making progress. I believe nurses know their patients best, and she always went above and beyond for him, and for my mother and me as well. She called us often, sometimes even after her shift was over, to give us updates.
Eventually my father regained consciousness, coming out of the coma, and started mouthing words in an attempt to communicate. It's hard to express how it felt when he made it to the other side of the disease and started communicating with us again. It was a huge relief for my whole family. My mother has been so strong throughout this journey, despite the immense stress. My father was discharged to subacute rehab after eight weeks in the hospital.
Weill Cornell Medicine did a tremendous job of getting him out of the most difficult period of his COVID-19 struggle, and his care team had already been thinking long-term when it came time for him to go to rehab. He has been in rehab for nearly the same length of time he was in the hospital – 2 months – and while they're seeing progress, it has taken time for his speech to return to normal and to remove his feeding tube. While it's a relief to be in the recovery zone, mobility is still an issue and he has had to learn how to sit up, stand and walk again on his own.
There were so many who were involved in his care – doctors, attendings, residents, nurses, therapists, aides – whom I thank for putting on their best efforts. Seemingly small gestures, like the nurse's persistence and compassion, the updates and video chats, were incredibly impactful.
While things are far from being back to normal, I am forever grateful to my alma mater for bringing my dad over the height of illness. I am proud to be a graduate of Weill Cornell Medical College and I am appreciative for all those alumni who stayed behind in New York City during those especially challenging months.
While it has taken strength and time to reflect on this experience as a family member of a COVID patient, I want to extend a big thank you to the Weill Cornell Medicine medical staff and community.