November 23, 2020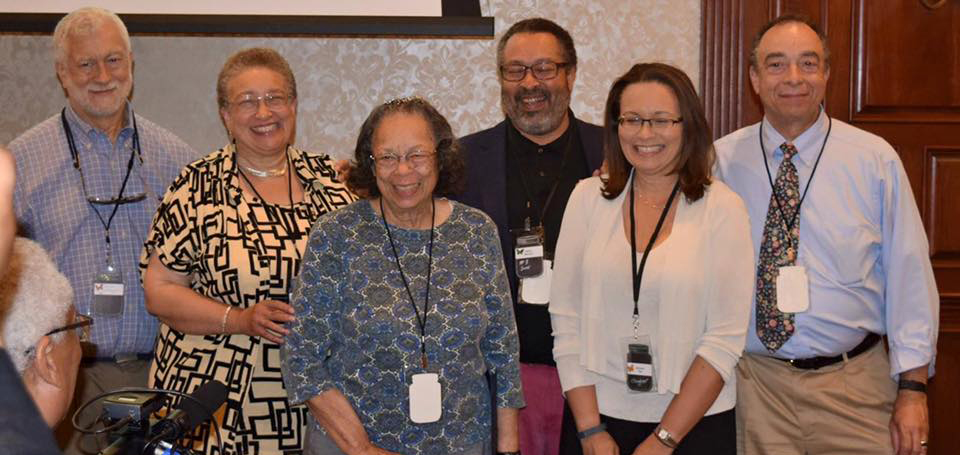 From left: Victor Metoyer III, Cecile Garcia, Marie Metoyer, MD '51, Eric Metoyer, Adrienne Metoyer Eng, and Stephen Metoyer (Cornell BA '71, JD '74) 
The Reverend Eric Metoyer recently recalled a time as a young boy when riding in a rural country area of Vermont with his mother, Dr. Marie Metoyer (MD '51), and his sister, Adrienne, they spotted a lone man walking on the shoulder. 
"My mother recognized him as one of her community mental health patients and pulled over to chat with him for a couple minutes, just to make sure he was OK," says the Rev. Metoyer. "She didn't think twice about pulling over. She never ignored the need she saw, and she took her responsibility as a doctor to her patients very seriously."
It was that kind of dedication to improving the lives of others that fueled Dr. Metoyer's interest in becoming a doctor, and propelled her, in 1951, to become the first African American woman to graduate from Weill Cornell Medical College. Her commitment to others continued until her passing on March 17, 2020 at the age of 94 in Merrimack, New Hampshire. She was married to artist and architectural draughtsman Victor Metoyer, Jr. for 57 years, and they had five children: Victor III, Stephen, Cecile, Eric and Adrienne.
The Rev. Metoyer and his sister, Adrienne Metoyer Eng, remembered their mother fondly, always showing grace and compassion for neighbors and friends, and striving to make communities better.
"One thing our mother taught us was to treat everyone the same," Ms. Eng said in an interview in August 2020. Ms. Eng later passed away in September, just six months after her mother. "She was a strong, compassionate person who looked out for others, serving the less fortunate."
Ms. Eng remembered how her mother would regularly hand out sandwiches from her office to neighbors in need. "When our brother asked 'Mom, why are you giving them sandwiches?' she simply responded, 'Because they're hungry.' And it was as simple as that. She was pragmatic and no-nonsense, but she had strength and humility, and a strong spiritual core."
As one of the few women and African American students enrolled at Weill Cornell Medical College in the late 1940s, Dr. Marie Metoyer faced many challenges. And as a newlywed who went through two pregnancies and births while a medical student, she showed enormous perseverance. Despite the obstacles, Dr. Metoyer's tenacious and kind spirit bolstered her work, which blossomed into an impactful career.
Dr. Metoyer's parents, Dr. Lena Edwards and Dr. Lewis Keith Madison, were physicians who met at Howard University College of Medicine. They ran a family practice in Jersey City, New Jersey and eventually, Dr. Metoyer took over her mother's obstetrics/gynecology practice, moving it to the ground floor of her home, which was just next door to her parents.
"Being a doctor was the family business, but there was a beautiful boundary – work was work and home was home," says the Rev. Metoyer. "Our house was kind of an artistic, intellectual center, and the people who showed up for dinners and cocktail parties were artists, jurists, soldiers and other doctors. It was a real mix of society."
In 1968, the family moved to Vermont so that Dr. Metoyer could complete a residency in psychiatry at the University of Vermont, where she also received a fellowship in Community and Child Psychiatry. She went on to serve as a psychiatrist covering three rural counties in northeast Vermont until 1981, when the couple moved to Manchester, New Hampshire. There, Dr. Metoyer worked as a psychiatrist and clinical director of the Day Program at Manchester Mental Health.
A proud Weill Cornell Medicine alumnus, Dr. Metoyer attended a multitude of alumni events, and her son, Stephen Metoyer, is a graduate of Cornell University College of Arts and Sciences (BA '71) and Cornell Law School (JD '74).
She was one of the first African American psychiatrists in Vermont and New Hampshire, specializing in community mental health. She advocated on behalf of women in legislative and public policy issues; for racial equality; and increased scholarship opportunities for disadvantaged youth. She was the recipient of dozens of honors and awards throughout her life, including the New Hampshire Martin Luther King Jr. Award in 2008.
"My mother believed it was important to be a good example for the next generation," says the Rev. Metoyer. "She believed in service by example – if you really want to make change, you need to be an activist in the change."
Dr. Metoyer retired at age 70, but she continued to work tirelessly to promote racial equality and cultural diversity through leadership in several organizations. She served as vice president of the Cultural Diversity Task Force of Greater Manchester, chair of the Scholarship Awards for the Greater Manchester Black Scholarship Foundation, three-term secretary of the Manchester NAACP and eight years on the New Hampshire Commission on the Status of Women, among other roles. She was honored in 2012 by U.S. Senator Jeanne Shaheen of New Hampshire for her service to the people of New Hampshire. In Dr. Metoyer's final days in hospice, Senator Shaheen called her to reiterate her gratitude. Dr. Metoyer's family and friends remember her as a pillar of the communities she lived and worked in, where she improved so many lives.
"When things are tough, I think about people like Dr. Metoyer and all that they accomplished and fought for," says Dr. Linnie Golightly (MD '83), associate dean of diversity and inclusion, associate professor of medicine in microbiology and immunology and of clinical medicine at Weill Cornell Medicine. "Then you consider the times they were in and how she kept going and persevered – it's quite a legacy to live up to."