December 2, 2019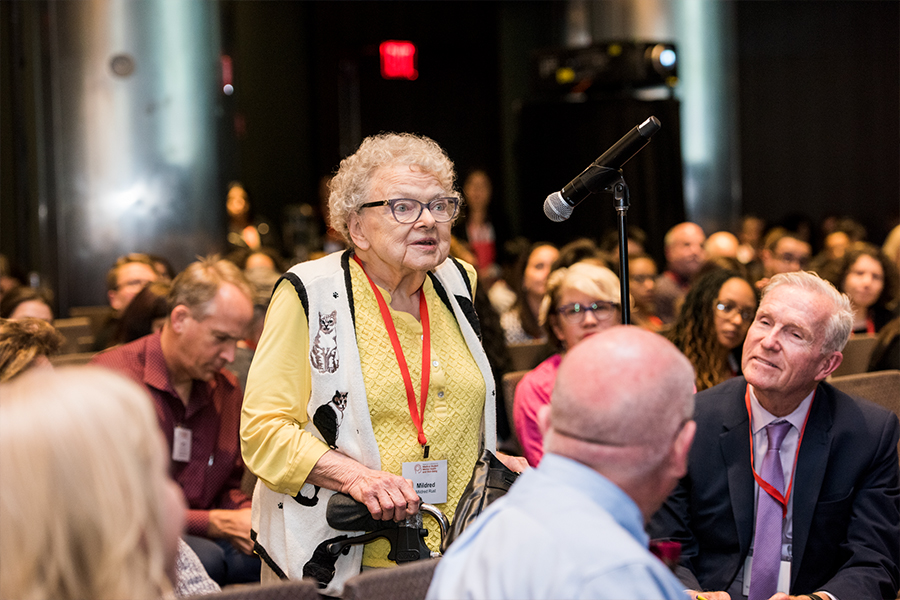 Dr. Mildred Rust, a graduate of Weill Cornell Medical College's class of 1956, doesn't often attend Weill Cornell Medicine events, but says it was important that she attend the first-ever National Conference on Medical Student Mental Health and Well-Being. Over the course of two days in September, the symposium drew more than 350 medical school students, educators and researchers who met at the Grand Hyatt in New York City to address the increasing rates of psychological distress among medical students throughout the United States.
Dr. Rust, 91, is a retired psychiatrist who lives in a retirement community in Silver Spring, Maryland. Living with Parkinson's disease, it can be difficult for her to travel, but attending this conference was personally fulfilling for her.
"This topic is really important to me because I have a history of depression and I was dealing with depression while I was in medical school," says Dr. Rust. "I was lucky to have good treatment, but I am really impressed with the programs being offered now, since we did not have all of these resources back then."
Dr. Rust was just one of four women in her medical school class. She considers herself to be very fortunate for the opportunities that were made available to her at Weill Cornell Medical College, including receiving a scholarship that made her medical studies attainable.
After graduation, Dr. Rust went on to enjoy a career that spanned more than 50 years, many of them spent in Rochester, New York. She chose psychiatry, she said, because it was a field centered on empathy and compassion for patients, something Dr. Rust experienced when she first disclosed she had depression while in medical school.
As a student during an era when issues around mental health were infrequently discussed and often stigmatized, Dr. Rust says she found support among the classmates she opened up to.
While through the years, she has been open about her depression with close friends and family, Dr. Rust says she's only recently felt comfortable being more public about her mental health struggles. She first felt encouraged after reading an article posted by the National Alliance on Mental Illness (NAMI) on the healing power of storytelling. This piece encouraged her to share her story to fellow members of her retirement community at a recent event.
"Very few people where I lived knew about it, but it turned out to be very good for me," Dr. Rust says. "It felt good to be open."
She again found a receptive audience at Weill Cornell's conference when she spoke during a question-and-answer period following a session on suicide prevention. After sharing the anecdote about her classmates' support all those years ago, the audience applauded her, and many commended her honesty.
Among today's medical students, Dr. Rust says, mental health issues still aren't addressed as openly as they could be, but she is pleased to see that times are changing.
"This is a great move forward," says Dr. Rust. "I'm happy to be a part of it and see it unfold."