December 10, 2018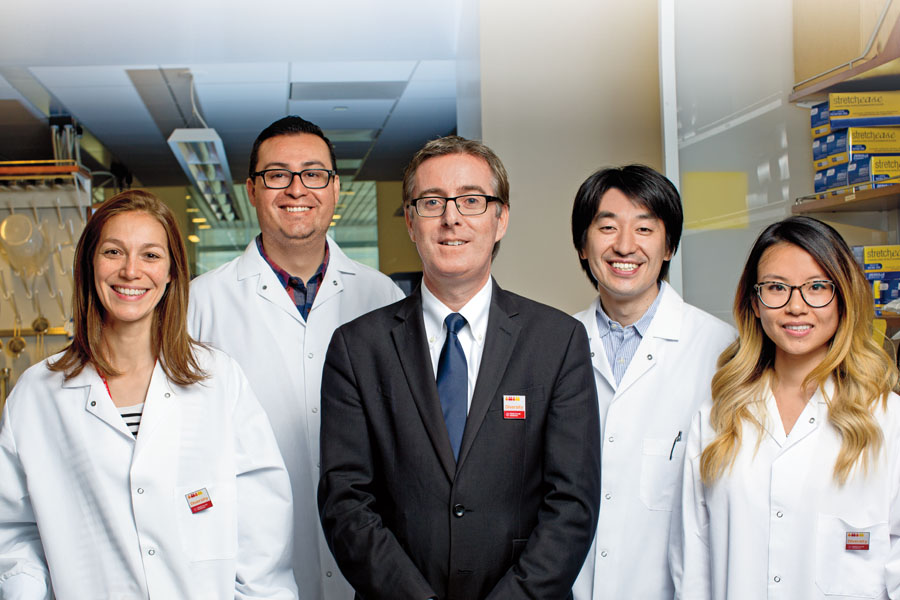 With a $7.5 million gift from the Friedman Family Foundation, endowed by Stephen and Vice Chair Overseer Barbara Friedman, Weill Cornell Medicine has established an innovative cross-campus center dedicated to improving human health through research in the complex relationship between nutrition, inflammation and the development of disease.
The Friedman Center for Nutrition and Inflammation will create new programs across Weill Cornell Medicine and Cornell's Ithaca campus, harnessing key resources to study the interaction between diet, the immune system and the microbiome – the genetic material generated by the viruses, bacteria, fungi and parasites that live in or on the human body.
The two Cornell campuses are working together to engage other donors to match the support provided by the Friedmans and the Friedman Family Foundation with the vision of a $15 million initiative that will foster groundbreaking research and provide state-of-the-art education in nutrition, inflammation and the microbiome for medical and graduate students and clinicians.
The Friedman Center will be directed by Dr. David Artis, a world leader in immunology, inflammation and microbiome research. He is director of the Jill Roberts Institute for Research in Inflammatory Bowel Disease and the Michael Kors Professor in Immunology at Weill Cornell Medicine.
Researchers at the center will work to develop treatments and preventive strategies for illnesses including cancer, arthritis, Alzheimer's disease, diabetes and inflammatory bowel disease – virtually every disease area represented in the Belfer Research Building, says Dr. Artis.
"The Friedmans' generous commitment to establish this important program represents a moment for Weill Cornell Medicine to move forward into a new realm of healthcare," says Dr. Augustine M.K. Choi, the Stephen and Suzanne Weiss Dean of Weill Cornell Medicine and Cornell's provost for medical affairs. "This gift from Barbara and Steve so genuinely supports every facet of our mission to care, discover and teach."
Building on the exceptional biomedical research and clinical care programs at Weill Cornell Medicine, and the globally recognized life-sciences research programs in Ithaca, the center will forge partnerships that will facilitate translation of the latest discoveries in nutrition and immunological research to patient care, and establish education and training programs for the next generation of healthcare leaders.
"As we continue to learn more about the connection between diet, inflammation and the development of disease, we must leverage the profound strengths of our faculty on both campuses," says Barbara Friedman. "We hope that discoveries made at the Friedman Center for Nutrition and Inflammation will ultimately result in improved health on a global scale."
"One of the most exciting advances in biomedical research and patient care is our growing understanding of the influence of diet and nutrition on changes in the composition of the microbiota – the complex group of organisms living in and on our bodies – and how these changes subsequently affect our immunity to infection and our susceptibility to complex diseases, including asthma, diabetes, inflammatory bowel disease and cancer," says Dr. Artis. "We have to teach medical students about this emerging area of disease research, we have to fund investigators to do cutting-edge research, and we have to aid our clinical colleagues in implementing new discoveries to improve the lives of patients."
The Friedmans have a long history of philanthropy at Weill Cornell Medicine. They are both Cornell alumni, class of 1959, who have actively supported the university, where Barbara Friedman is trustee emerita. She has also served on the advisory board of Weill Cornell Medicine-Qatar and been a member of Weill Cornell Medicine's Board of Overseers since 1993.
"We are extremely grateful to the Friedman family, whose leadership gift will infuse nutrition science into the medical school curriculum and build bridges to the outstanding nutrition programs in Ithaca,'' says Jessica Bibliowicz, chairman of the Weill Cornell Medicine Board of Overseers. "Barbara and Steve's generous support will transform the ways in which our medical students learn about the science of nutrition and inflammation, and help to develop new targeted therapies with enormous promise for a range of devastating diseases."
"This is a wonderful example of leveraging the strengths of the Cornell faculty across its Ithaca and New York City campuses. Working together, we can have an even more profound impact on science and medicine," says Cornell Provost Michael Kotlikoff. "We are so grateful for the Friedmans' foresight and dedication to this burgeoning area of exploration."
"The Friedman Center for Nutrition and Inflammation will be at the forefront of understanding how diet and nutrition influence our microbiota and our immune system, and how these processes influence susceptibility to disease," says Dr. Artis. "This visionary gift will allow us to apply revolutionary technologies that we hope will ultimately provide comprehensive, personalized care – a holistic approach that will take into account each patient's genetics, diet and lifestyle."
The Friedman family believes that a strong educational component is critical to the mission of the center and that future physicians will benefit from advanced training in nutrition sciences. "Medical students need to understand that everything we put into our bodies, in addition to our environment, has a profound effect on our overall health," says Barbara Friedman. "It's like planting seeds – our hope is that these students take this knowledge with them and help translate these nutrition research discoveries into meaningful changes in their own patients' lives."
Download Milestones Issue: 
Milestones September 2018