November 21, 2022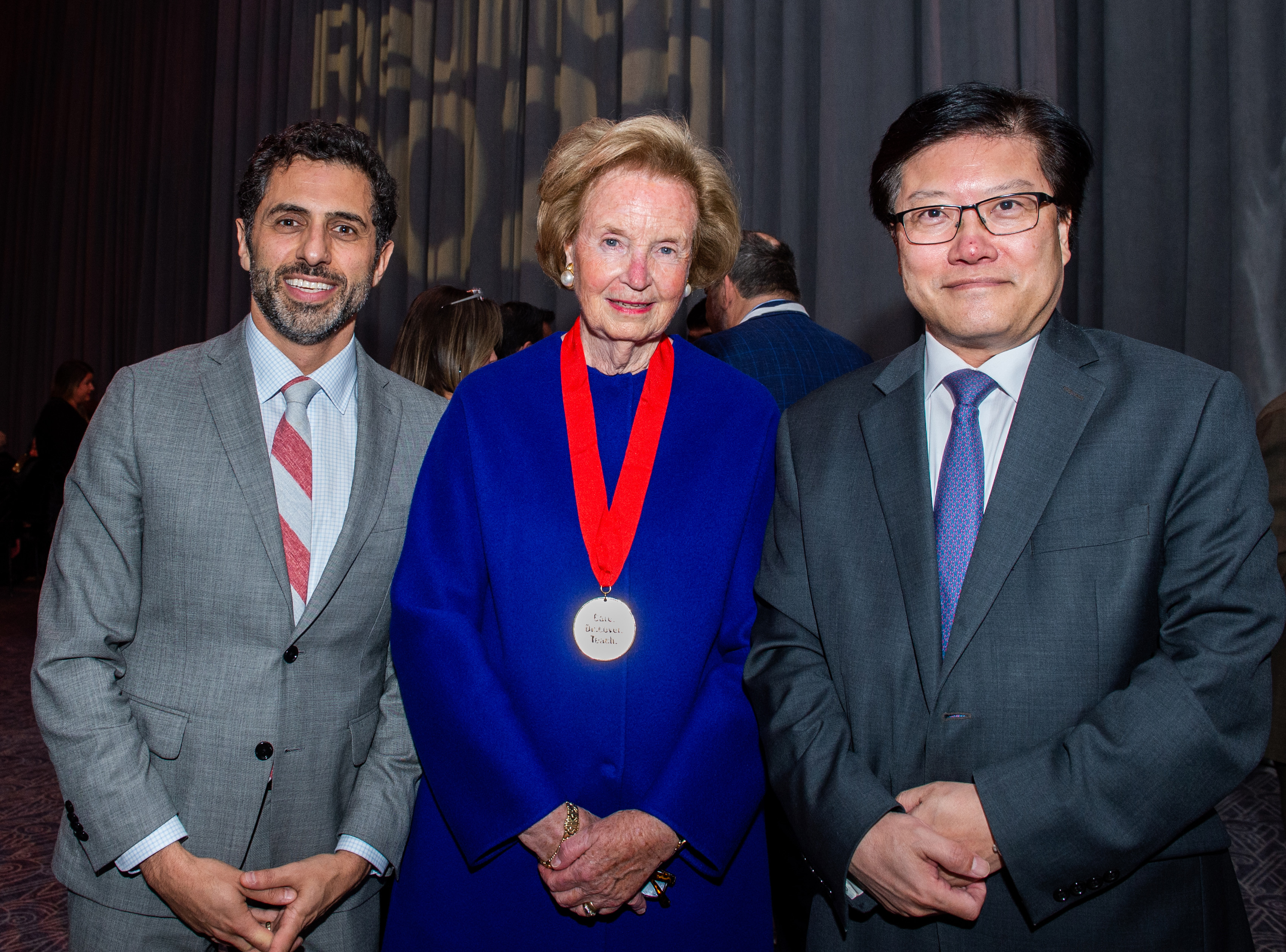 More than 300 medical college alumni, representing classes spanning more than six decades, were warmly welcomed back to campus by Dr. Augustine M.K. Choi, the Stephen and Suzanne Weiss Dean of Weill Cornell Medicine, as Reunion 2022 kicked off the morning of Friday, Oct. 7 – the first in-person alumni reunion since 2018.
Thanks to the hard work of volunteer leadership – Alumni Association Board president Dr. Joseph Habboushe (M.D. '06), reunion chair Dr. Kathleen Foley (M.D. '69), class leader chairs Dr. James Auran (M.D. '83) and Dr. Ameet Singh (M.D. '02), and all the other class leaders – the event, which unfolded during a spectacular fall weekend, was meaningful, memorable and extremely well-attended.
Reunion 2022 offered many Reunion firsts for medical college graduates, including a course for Continuing Medical Education (CME) credit, class gatherings at the University Club and a celebratory dinner at the Ziegfeld Ballroom that featured presentations and live music from current students. Reunion 2022 was also offered virtually, allowing those who could not attend in person the opportunity to take part in daytime programming both Friday and Saturday.
The weekend's itinerary offered breaks for socializing, and found many former students gathered in groups, reminiscing about their time at Weill Cornell Medical College and reflecting on their careers as physicians. The evening class gatherings and celebratory dinner fostered a sense of community and togetherness, reinforcing the strong bonds that have kept so many alumni connected over the years.
The dinner capped off a whirlwind weekend that reinvigorated relationships and fostered a renewed sense of camaraderie among alumni, many of whom got in touch with organizers soon after the weekend ended.
"It was a fantastic night – I'm so glad I attended,'' said Dr. John Blanco (M.D. '82), of the class gatherings held at the University Club.
"Everything about the weekend was so well-planned and well-executed,'' said Dr. Gail Dalton (M.D. '87).
"It was an outstanding Reunion weekend, from the very beginning to the last goodbye,'' said Dr. Richard Lynn (M.D. '71). "Every detail was flawless, and I can tell you that every classmate of mine in attendance was overjoyed with the entire experience."
Reunion 2022, which ran through Saturday, October 8, offered two full days of programming, including awards ceremonies, campus tours and a session on planned giving opportunities at Weill Cornell Medicine.  Program highlights also included an interview with Dr. John Gallin (M.D. '69) of the National Institutes of Health, led by Dr. Neha Pathak (M.D. '06) of WebMD/Medscape, and panel discussions on the evolution of medicine and trends in global health, featuring alumni marking their 25th and 50th anniversaries.
Outgoing Alumni Association president Dr. Joseph Habboushe (M.D. '06) opened the event with a nod to the Covid-19 pandemic and the accompanying challenges that doctors have faced on a daily basis. "It's been a humbling few years, but it's also been an amazing reminder that what we do in medicine matters, and your choice to take care of patients every day matters,'' he said. "Your giving back to Weill Cornell Medicine and helping the students of the future will matter for many, many years."
Dean Choi echoed Dr. Habboushe's sentiments as he took the stage, facing a large crowd of returning students, some of whom hadn't been back to campus for more than 50 years. "It's wonderful to see all of you here in person,'' he said. "It is truly an honor to represent all of you and what Weill Cornell Medicine stands for."
As he updated the audience on the institution's $1.5 billion We're Changing Medicine campaign, Dean Choi spoke of his gratitude to alumni, who have played a substantial role in the success of the campaign, contributing more than $14.7 million – and working together to grow a highly collaborative Alumni Association that has fostered growth across all facets of Weill Cornell Medicine's mission.
Dean Choi noted his pride in the campaign's key initiatives, which include a new student residence on East 74th Street and York Avenue, a sharpened focus on research and the institution's debt-free financial aid program.
"We're doing it to put equity on the map,'' he said of the program. "If you're a kid in Louisiana or Brooklyn or Idaho or Manhattan, if you want to be a doctor and come to Weill Cornell Medicine and your family needs financial aid, we will make sure you graduate debt-free."   
The Dean also touched on Weill Cornell Medicine's efforts to create a more equitable, inclusive workforce, on campus and throughout society. "This is an area that we, as homo sapiens, need to do better in," he said. "This is about humanity, and we at Weill Cornell Medicine will try our best to contribute to the cause."
As he neared the end of his remarks, Dean Choi thanked alumni for their roles as ambassadors for the institution and spoke of his pride in the recent White Coat Ceremony welcoming the class of 2026, comparing the new students to those who'd graduated in years past.
"Weill Cornell Medicine continues to attract the best students, not because they score well on paper, which they do, but because of their commitment beyond their studies to making an impact on our society and trying to make every life better," he said.
Challenging Health-Care Disparities
During a Friday-morning presentation, "Racial Justice: Transforming Academic Medicine During the Pandemic" – which was also offered for CME credit – Dr. Susana Morales, director of Weill Cornell's Diversity Center of Excellence, challenged alumni to join mentoring programs at the heart of efforts to increase health equity and workforce diversity. 
Dr. Morales pointed out that in New York City, where half the population is Black or Latino, diversity among doctors who practice here lags far behind. Disparities in health care were especially evident in mistrust surrounding COVID vaccines.
"I think that some of the disparities in COVID opened many people's eyes to these issues where they may not have been on their radar before that," Dr. Morales told the audience during the presentation, adding that solutions are not yet clear.
She also outlined partnerships being created throughout the Weill Cornell Medicine community and beyond to diversify the U.S. health-care workforce. Finding few mentoring program models for underrepresented minorities and women, she helped create the Diversity Mentoring Cascade, building teams of medical school faculty, alumni, fellows, residents and students to create a supportive community and enhance mentoring skills.
"We're really thinking about ways to create communities across [Weill Cornell Medicine]," said Dr. Morales.
Reflecting on a Storied Career
The featured speaker at Friday afternoon's "Alumni Interview" program, Dr. John I. Gallin (M.D. '69), this year's Alumni Award of Distinction recipient, retraced his strong ties to Weill Cornell Medicine, his long career at the National Institutes of Health and his commitment to scientific discovery.
Dr. Gallin, who helped oversee creation of a new National Institutes of Health Clinical Research Center and contributed to breakthroughs in treating rare immune disorders, shared memories of his early days at Weill Cornell Medicine and anecdotes about his friendship with fellow alumnus Dr. Anthony Fauci (M.D. '66). Dr. Fauci announced in August that he will be stepping down from his roles as director of the National Institute of Allergy and Infectious Diseases (NIAID), chief of the NIAID Laboratory of Immunoregulation and chief medical advisor to President Joseph Biden.
Responding to questions from Dr. Neha Pathak (M.D. '06), the chief physician editor of Health and Lifestyle Medicine at WebMD/Medscape, Dr. Gallin credited Weill Cornell Medicine with fostering his passion for medicine.
"What was special to me was the sensitivity of the institution to my own personal visions, trying to merge science with the business of clinical care," Dr. Gallin said, lauding the significant number of Weill Cornell Medicine alumni who have helped strengthen the NIH. 
Dr. Gallin advised young physicians to "have a passion and pursue it," adding, "The advice that [Dr.] Tony Fauci has given recently to young people is, 'Pursue that passion, but don't let politics get in the way.' "
Witnessing the Evolution of Medicine
A Saturday-morning discussion on the evolution of medicine over the past half-century, moderated by Dr. Kathleen M. Foley (M.D. '69) – the new president of the Weill Cornell Medical College Alumni Association – offered insights from four alumni celebrating their 50th reunion anniversaries. Dr. Foley assumed the position of president on Friday, stepping into the role previously held by Dr. Joseph Habboushe.
Panelists included Dr. Margaret ("Peggy") Bia (M.D. '72), Dr. Steven Gabbe (M.D. '69), Dr. Barry Levy (M.D. '70) and Dr. Henry Pitt (M.D. '71).
Dr. Bia recalled being warned against seeking a career in kidney transplantation when she joined Yale School of Medicine's faculty in 1978. At the time, half the kidneys were rejected and the ones that weren't only lasted a few years. 
"But I found myself so engaged in how grateful people were, no matter what the risks were in getting a kidney and being able to come off dialysis," said Dr. Bia, now professor emeritus of medicine (nephrology) at Yale.
She detailed developments over the years, from the discovery of drugs that revolutionized organ transplants, to treatments for a deadly virus that is now treated with a pill. A procedure once restricted to younger people was now offered based on "biologic, not chronologic age," Dr. Bia said.
Recapping her rewarding career in kidney transplantation, she said, "If I had ten lives to lead, I would do the exact same thing."
Advancing Global Health
During a Saturday-afternoon program, "Global Health: Saving Lives and Improving Health Around the World,"featuring members of the 25th reunion classes, panelist Dr. Milagritos Tapia (M.D. '97) recounted the rewards of conducting epidemiological studies and vaccine trials in Mali, in northwest Africa. 
"Thanks to the work we've done, we were able to introduce a number of vaccines," said Tapia, a professor and pediatric infectious disease specialist at the University of Maryland Center for Vaccine Development. "We conducted vaccine trials in Ebola, a maternal influenza trial and COVID-19 vaccine trials."
Tapia was among six panelists from the classes of 1994 to 1997 who participated in the discussion, moderated by Dr. Karen Lin Su (M.D. '97). The other panelists were Dr. Sandeep Wadhwa (M.D. '94), Dr. Matthew Spitzer (M.D. '95), Dr. Todd Gorman (M.D. '96), Dr. Corey Casper (M.D. '97) and Dr. Manoj Abraham (M.D. '97). 
Celebrating Together at the Ziegfeld Ballroom
Reunion weekend's closing event – a celebratory dinner at the historic Ziegfeld Ballroom – featured live music and presentations highlighting several of Weill Cornell Medicine's programs available to students at the medical college. More than 200 alumni and guests attended the evening event.
Both the Friday-night class gatherings and the Saturday-night celebratory dinner provided a new approach to Reunion weekend, offering alumni two special evenings that gathered all Weill Cornell Medicine graduates under one roof.
Speakers at the Ziegfeld event included Koby Amankwah, president of Black and Latino Men in Medicine, a network of administrators, physicians, scientists, trainees and students that addresses issues related to the decline of Black and Latino men in health care, medicine and science; Katie Cunnane, a member of Motivating Action Through Community Health Outreach, which works to teach children about healthy eating, exercising and lifestyle at the grassroots level; and Grant Luhmann and Sofya Norman, members of the Music & Medicine Initiative – a duet of student musicians who performed, as well, during the evening.