April 24, 2017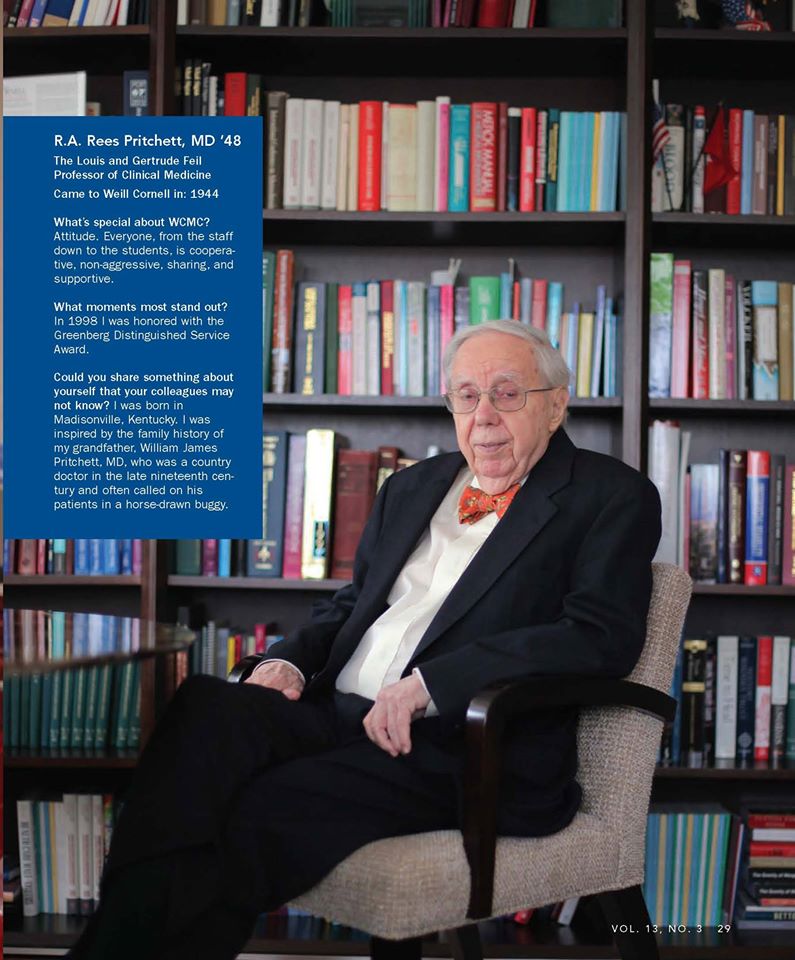 Dr. Rees Pritchett, a consummate physician who spent seven decades at our medical center as a student, resident, and faculty member, died on March 27, 2017. He was 93.
Dr. Pritchett entered medical school in 1944 and remained strongly tied to what is now known as NewYork-Presbyterian/Weill Cornell Medical Center for the rest of his life. After graduating from Weill Cornell Medical College in 1948, he became a cardiac resident at NewYork-Presbyterian Hospital, living in a small six-story building for resident staff at the site of the current Weill Greenberg Center. After completing his training, he entered private practice as an internist with a subspecialty in cardiology and joined Weill Cornell Medicine's voluntary faculty in 1953. From an office located just a few blocks from campus, on 66th Street between 2nd and 3rd Avenues, he was actively involved in the life of the medical school. He taught medicine, mentored junior faculty, and recruited numerous physicians to the voluntary faculty, many of whom are still connected to Weill Cornell Medicine today.
In 1992 Dr. Pritchett joined the full-time faculty and became a professor of clinical medicine in the Weill Department of Medicine. He received the Maurice R. Greenberg Distinguished Service Award, the medical center's highest honor, in 1998 and was appointed the Louis and Gertrude Feil Professor of Clinical Medicine from 2003-2015. He was also honored with the naming of the R.A. Rees Pritchett Professorship of Microbiology and the Leona and Harry Helmsley Scholarship in honor of R.A. Rees Pritchett, M.D.
Throughout his career, Dr. Pritchett was devoted to his patients, regularly treating more than one generation in the same family. Many high-profile individuals went to him for care, including, notably, Brooke Astor and Leona Helmsley. Although he stopped seeing patients in 2010, Dr. Pritchett maintained his many connections to Weill Cornell Medicine and continued to be involved in fundraising activities for his alma mater.
Dr. Rees Pritchett, a greatly beloved physician, educator, and role model, will be deeply missed by the generations of faculty, staff, and students whose lives he touched at Weill Cornell Medicine.
Please join Dean Augustine M.K. Choi, M.D. and distinguished faculty as we pay tribute to Dr. Pritchett. Clare Pritchett, Rees' wife, and daughter Susan Post will attend, and look forward to hearing your remembrances and anecdotes about this Weill Cornell legend.
Friday, May 5, 2017, from 4:00 to 5:30 p.m.
Griffis Faculty Club at Weill Cornell Medicine
1300 York Avenue, New York, NY (at 69th Street)
You may RSVP to 212-746-4720 if you plan to join us.